10 Female Founders Changing Chinese Tech and Economy
When you say "entrepreneur", people automatically think of men. They still think that women aren't present in big roles in the tech industry. Even worse, investors have doubts about female founders: can they lead?
Research shows that female start-up founders often face negative attitudes during pitches. Investors tend to ask them prevention-focused questions, while they ask male entrepreneurs promotion-focused questions.
Women are equally smart and capable as their fellow males, if not better. Despite the presence of highly successful women in the industry, we find the need to specify that a founder is "female" as if it were an exception. A study from Illuminate reveals that the percentage of male founders indicating hardship in "balancing family and work" was double that of female founders. They also attach more importance to the "need for financial security" than women.
Take a look at this Forbes 2020 World's Billionaires List. Of the 234 successful, self-made women on the list of 2,095 billionaires – yes, women only account for 11% – half are from China.
So who are these high-achieving women entrepreneurs? Let their achievements speak for them.
Lucy Lei Peng
"Women's poverty alleviation is my KPI"
As one of the 18 co-founders of e-commerce giant Alibaba, Lucy Lei Peng is the world's top female founder when looking at the total funding amount raised, according to a recent study from BusinessFinancing. Peng, as the sole founder of Alibaba's Ant Financial Services, raised $22 billion, including a world record $4.5 billion funding round in 2016. On July 20, Ant Financial announced that it has kicked off a concurrent initial public offering process in Shanghai and Hong Kong.
SEE ALSO: Alibaba's Ant Group Introduces New Technology Brand, All-in-One Workstation to Accelerate Blockchain Deployment
Like Jack Ma, Peng started as a teacher at Zhejiang University of Finance and Economics. She quit teaching shortly after marrying, and joined Jack Ma in founding Alibaba with her husband Sun Tongyu in 1999. Peng created Alibaba's HR department and developed a "mom and dad" managing model where "mom" focused on teamwork and motivation while "dad" handled performance assessments.
Peng has since served as Alibaba's chief human resources officer for over 10 years. In 2014, she founded Ant Financial, Alibaba's online finance arm. Peng has stepped down from her role as CEO and executive chairwoman of Ant Financial and now serves as the chairwoman of Lazada, a Southeast Asian e-commerce company acquired by Alibaba.
Cindy Mi
"I'm the source of everything"
As an extreme sports lover, Cindy Mi never plays by the rules. When Mi was kicked out of a math class in middle school, she knew there was something wrong with the education system. In a room with 60 kids, it's hard to take good care of each one. At the age of 17, Mi dropped out of school and founded ABCEnglish, a brick-and-mortar English education company, with her uncle. Later she got her high school degree through equivalency exams and earned a bachelor's degree in English literature from Beijing Foreign Language University as well as a MBA from the Cheung Kong Graduate School of Business.
To fully achieve her dream, Mi founded VIPKid in 2013 to connect teachers in North America with young kids around the world for one-on-one English immersion learning online. Today it is the world's largest online K-12 English tutoring platform with 30,000 native English speakers and 200,000 students across 35 countries. The platform has completed its Series E financing round in October 2019, with funding led by Tencent.
Melissa Yang
"Women are naturally thoughtful, good at communication and empathize more easily with users"
According to Tujia's co-founder Melissa Yang, service-type entrepreneurial projects are naturally suitable for female founders.
Often described as China's Airbnb, Tujia was founded in 2011, three years after its American rival. Tujia, or "home while on a journey" in Chinese, has covered 400 domestic destinations and 1,037 overseas areas with more than 2.3 million housing units, including homestays, apartments, villas and more.
Majoring in automation at Tsinghua University and then computer science at the University of Washington, Yang founded vacation rental platform Escapia in 2006 and worked for Microsoft in Beijing before starting Tujia. She is the "driving force" behind Tujia, in charge of almost all technical decisions.
Miranda Qu
"Worries make no sense; we just try"
It is an old stereotype that girls love shopping; but not every girl thinks about making money from it. However, Xiaohongshu CEO and co-founder Miranda Qu breaks this mold.
Trained to be a journalist, Qu put the skills of collecting and distributing information that she learned at Beijing Foreign Studies University into the lifestyle start-up Xiaohongshu. Interestingly, Qu even met her business partner, Charlwin Mao, in a shopping mall.
Founded in 2013, Xiaohongshu, or Little Red Book in Chinese, is a community-oriented e-commerce app focused on fashion, beauty, lifestyle and travel. It has become one of the world's largest lifestyle platforms with over 300 million registered users as of July 2019. The company values over $3 billion in just six years.
SEE ALSO: Top Chinese Online Shopping Apps 2020
In May 2019, Qu was listed among the 100 Most Creative People in Business.
Her Shanghai-based company is often described as a mix of Pinterest and Instagram. Initially created as a US shopping guide for Chinese customers, Xiaohongshu provides avenues for users to share their lifestyles and products they're using, as well as buy products directly on the app. For example, US makeup brand ColourPop debuted on the platform last fall.
Li Yuanyuan
"Make technology more humane and feminine"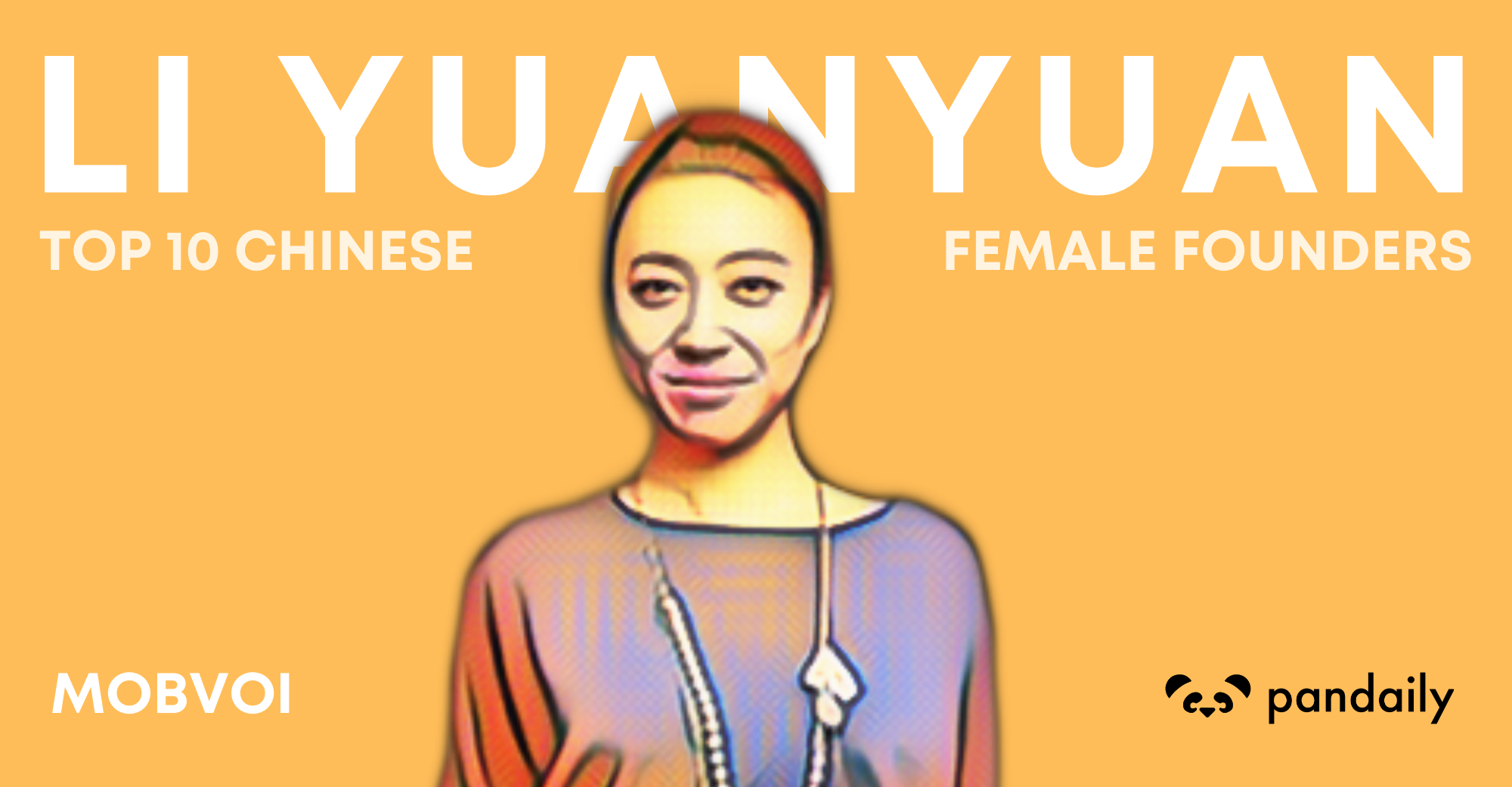 As compared to her business partner Li Zhifei, Li Yuanyuan, co-founder of AI company Mobvoi, is seldom in the public eye.
Graduating from the University of Maryland with a master's degree in information management, Li was a senior manager of MicroStrategy, the world's largest business intelligence company, before founding Mobvoi in 2012. The company develops Chinese voice recognition, natural language processing and vertical search technology in-house.
Thanks to Li, Mobvoi has a number of female experts and leaders . They use their patience, carefulness and aesthetic intelligence to give unique and warm touches to Mobvoi's products, Li once said in an interview.
SEE ALSO: Mobvoi Releases 4 New AI-Powered Wearable & Smart Home Devices
Kathy Xin Xu
"Women's intuition is very accurate"
As an English major at Nanjing University, Kathy Xin Xu liked to hang out in the library and read. But she soon discovered her true interest was in economics.
Xu has a sharp intuition. She not only studies the industry but also reads people. After graduating in 1988, Xu started as a bank clerk and then moved to investment companies. She invested in a series of now-well-known tech companies at a very early stage. As early as 1995, Xu invested $5 million in NetEase, which is now China's second-largest gaming company.
In 2015, Xu founded private equity firm Capital Today, where she has made a range of successful deals like investing in e-commerce giant JD.com. Her $18 million investment in JD is now worth more than $2.7 billion.
Zhong Huijuan
"From a chemistry teacher to the world's richest woman"
Known as the "Chinese pharmacy queen," 59-year-old Zhong Huijuan is the world's richest self-made woman in 2020 with a net worth of $14.6 billion.
Starting out as a chemistry teacher, Zhong quit her job to found Hansoh Pharmaceutical in 1996. Her company went public last year and is now reportedly worth $16.3 billion. Hansoh's stock rose 10% from early January to mid March as the coronavirus pandemic hit China.
Wu Yajun
"I have nothing to talk about. I am just a person focusing on my own business"
With a net worth of $12 billion, Wu Yajun was the 12th richest woman in the world as of March 2020. But before she founded the Hong Kong-listed real estate development company Longfor Properties in 1993, she used to be a factory worker earning $16 a month.
After years of working in a factory and then in the journalism world, Wu founded Longfor with her ex-husband. He no longer has a role in the company.
Wu stepped down as Longfor's chairperson in 2019 and put her daughter in charge of the company.
Zhou Qunfei
"You must gather your courage to face failures"
Born in a village in Hunan province, Zhou Qunfei had a tough childhood. She lost her mother at 5 and her father lost a finger and became blind after a factory accident. To earn money for her family, Zhou dropped out of high school at 16 and went to work at a watch lens factory in 1986. Six years later, Zhou started her own business with family members using savings of HK$20,000 ($2,547) – it was a screen printing workshop in a three-bedroom apartment.
If you have a smartphone, you're probably using one of the products from Zhou's company. Lens Technology provides touch screens for tech giants such as Tesla, Microsoft, Apple, Samsung and Huawei.
It went public on the Shenzhen Stock Exchange in March 2015. Today, the Hunan-based Lens Technology is valued at $11.4 billion, with over 82,000 employees across China. The teenager factory worker now has become one of the world's richest self-made women.
Wang Laichun
"It was just good luck"
Another factory girl who became a billionaire. Wang Laichun used to work at one of the factories of Taiwanese manufacturing giant Foxconn Technology, which produces iPhones, Kindles, Playstation 4s and more. After a decade at Foxconn, Wang left to start Luxshare Precision Industry with her brother in 2004, manufacturing computer connectors, cables, power cords and similar goods. Within 10 years, by the age of 46, Wang was named one of the world's youngest self-made billionaires.
Today, Wang's previous employer is one of her biggest clients. She has also incorporated Foxconn's strict management style in her own venture. In 2019, Luxshare's stocks outperformed every major stock traded in the Asia-Pacific, even Apple.
Sign up today for 5 free articles monthly!