BYD Surpasses Volkswagen to Place Third in Global Auto Rankings by Market Value
Company Market Cap's list of automakers showed on Tuesday that Tesla ranks first in terms of total value, followed by Toyota, and that BYD has surpassed Volkswagen to take third place. It is the only Chinese car company in the top ten spots.
According to the ranking, the fourth to tenth places are Volkswagen, Mercedes-Benz, BMW, General Motors, Ford, Stellantis and Honda.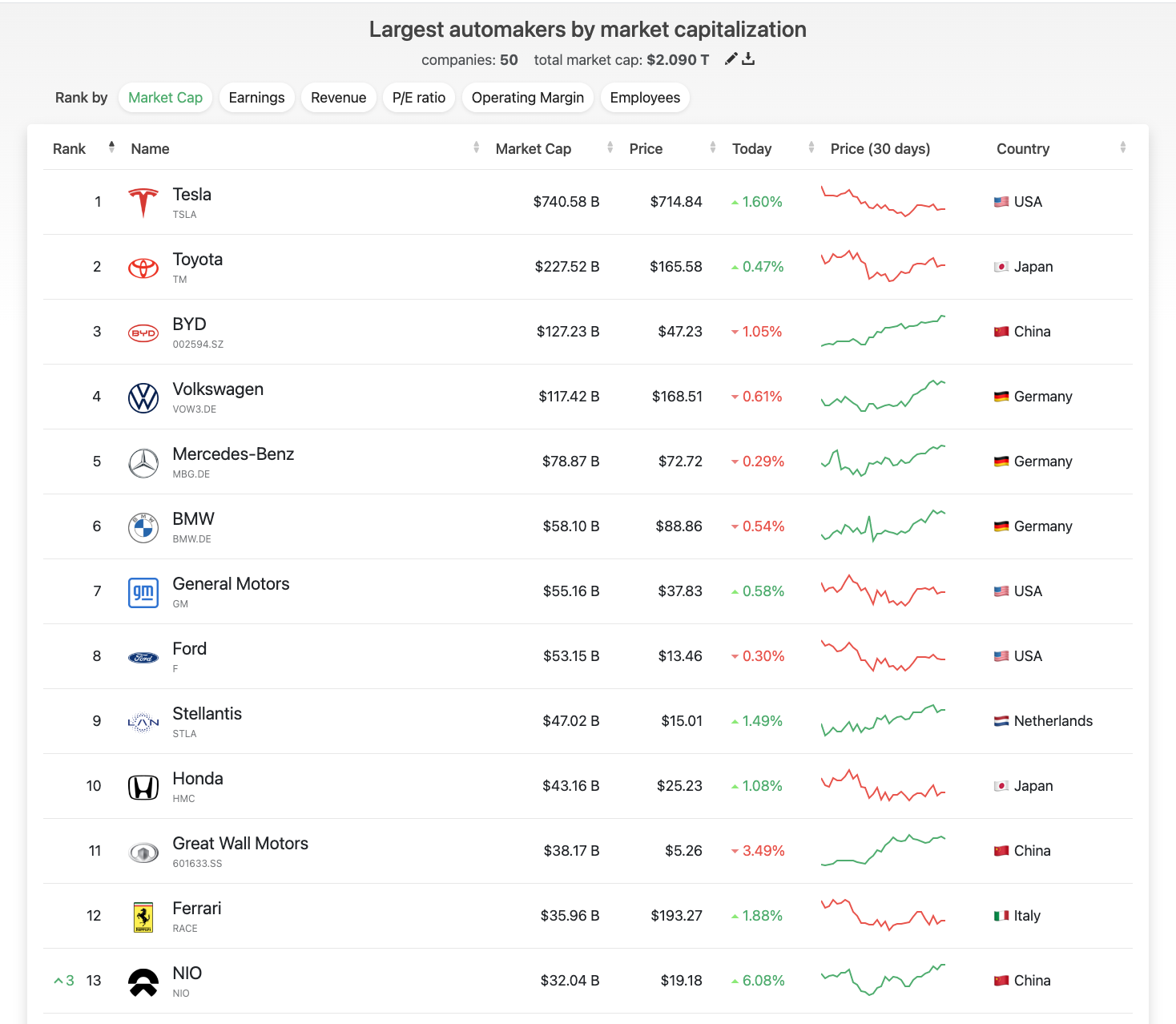 11th place is taken by Chinese firm Great Wall Motors, whose market value has now surpassed Ferrari. 13th place is NIO. Among the top 20 car companies by market value, five are from China.
On April 3, BYD announced that it would stop selling fuel-powered vehicles, focusing on pure electric and plug-in hybrid powertrain vehicles, becoming the first traditional automobile manufacturer in the world to make this decision.
In terms of sales volume, BYD sold 114,183 vehicles in May this year, up 152.8% year-on-year. This included 60,834 DM models and 53,349 EV models. The hybrid and pure electric vehicles helped BYD's sales volume achieve rapid growth since last year. Its minimum monthly sales volume in 2021 was only over 20,000 units, and one year later, BYD's monthly sales volume has approached 120,000 units.
SEE ALSO: BYD in Talks to Buy Six Lithium Mines in Africa
It is precisely because of BYD's strong growth that its share price continues to rise directly. After the sales volume was released in May, the market value of BYD's A shares rose to 926.4 billion yuan ($139 million), almost equal to CATL's 109 million yuan. Among Chinese car companies, BYD maintains a significant lead, as Great Wall Motors, which ranks second, is far behind.
Sign up today for 5 free articles monthly!