How Passion and Boldness Power the World's Fastest-Growing Smartphone Maker
When it comes to navigating uncharted waters, Sky Li, the founder and CEO of realme, is a pro.
Whether it's beating the odds to get into a designated key high school in China, leading OPPO's overseas operation in Southeast Asia or starting his own smartphone company, Li has always risen to the challenge.
"Everything I do, I strive to do the best I can," the 45-year-old founder said in a rare interview from his Shenzhen office. "Every project I'm on, I try to exceed expectations."
And he has the results to prove it. Just this month, realme broke world records by reaching the 50-million-users milestone just two years since its founding, making it the world's fastest-growing smartphone maker.
Since the beginning, realme had a precise target of young consumers who wish to purchase high-quality gadgets without breaking the bank. Today, realme products are sold in 61 markets globally, and the company has become one of the top five brands in key markets including India, Indonesia, Bangladesh and the Philippines.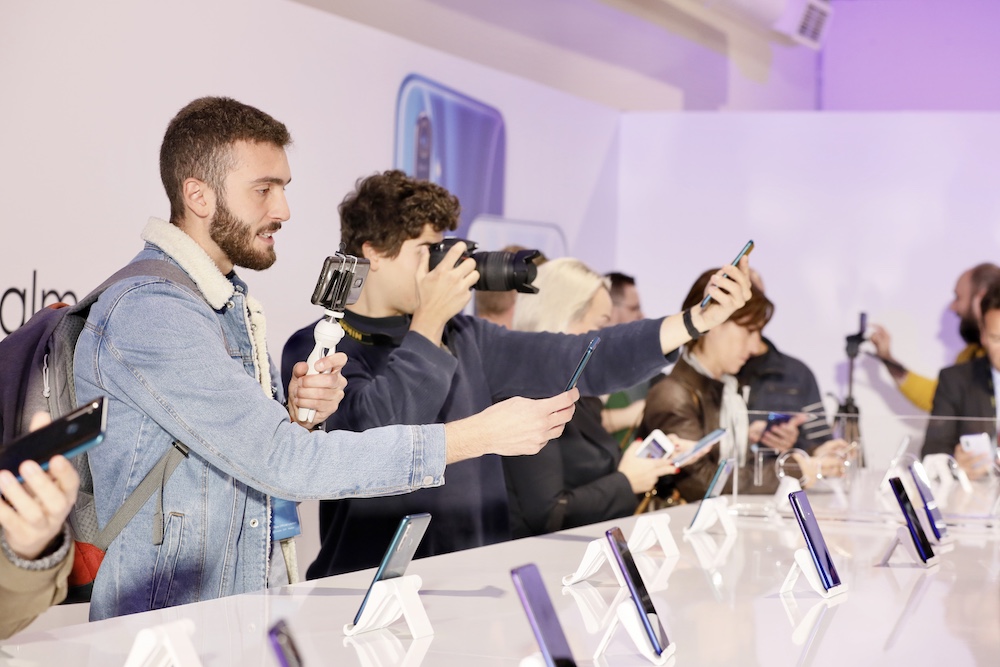 Not Afraid to Dream Big
Born in west China's Sichuan province in Leshan, Li learned from his stonemason father at an early age that the only way to make it out of the village is through hard work and perseverance.
After graduating from Nanjing University of Aeronautics and Astronautics in 2000, Li came to Guangdong, the forefront of China's reform and opening up. He joined BBK Electronics Group, one of the earliest consumer electronics makers in China at the time, which also owns OPPO, Vivo and OnePlus.
With a strong work ethic and excellent technical skills, Li quickly rose through the ranks and was soon promoted to main engineer and development supervisor. He was then selected to form the first batch of professional R&D project managers.
In 2009, Li served as the GM of BBK Audio-Visual Electronics Co., and under his leadership, the company occupied the lion's share in China's DVD player industry. However, the rapid decline of the DVD market forced Li and the company's board of directors to terminate the business just a year later. He then joined OPPO as a project manager, soon becoming the head of its development department.
In October 2013, Li was appointed the head of OPPO's overseas operations. At the time, OPPO had just started to expand in overseas markets, entering three countries including Thailand in a trial effort. Working with a team of a dozen staff members in their overseas headquarters, Li once again took on the challenge to navigate the company in unfamiliar territory.
"What's the color of the ocean for the smartphone market?" we asked.
"Extremely bloody," Li replied.
However, that didn't deter Li from diving in headfirst.
During one of his business trips to Gurugram, India in May 2018, a coincidental conversation between Li and Flipkart's VP Ajay Veer Yadav confirmed an observation that Li had about the consumer habits of the country's youth. Flipkart is India's largest e-commerce platform.
"A lot of young people were carrying around cheap, low-quality phones that were poorly designed and had poor functionality," Li said. "There appeared to be a large selection of smartphone brands in the market, but young users still found it hard to get a phone they like in all aspects. They always had to make a choice between the device's aesthetics or performance."
SEE ALSO: Made for the Young, by the Young: Exclusive Interview with the Team behind realme, the World's Fastest-growing Phone Maker
A spark ignited in Li. Noticing the huge opportunity in Asia's emerging markets, Li left OPPO and quickly assembled his team, establishing realme as an independent company on August 28, 2018.
Just a week later, the company released its first original model, realme 2, which has a 6.2-inch notched display and dual rear cameras. The phone is powered by a Qualcomm Snapdragon 450 chip and features a diamond-inspired design on its rear, which makes the phone glitter. Priced at roughly $120, it sold 200,000 units in five minutes on Flipkart.
"We spent countless sleepless nights polishing realme's first original phone," Li said. "We wanted to build a product that consumers would love, and we had to consider what kind of functions they would want in their phones and what kind of tradeoffs we had to make."
"At the same time, breaking into the overseas market four years ago was no walk in the park," he added. "We didn't have a lot of connections or experience in this area and had to start building everything from scratch. As I stepped outside of my comfort zone, I told myself, failure wasn't an option."
"It's almost like going into battle. Everything has to be meticulously planned," Sky said, quoting from Sun Tzu's "Art of War": "A true master of war doesn't need reputation or wisdom to win battles. He gains victories without erring by meticulously planning and calculating, for it means conquering an enemy that is doomed to defeat."
There were only eight people working on realme's Southeast Asian market, which covered eight countries at the time. An incredible amount of workload—from locating sales channels to organizing launch events—fell on each team member.
"But when we became the No. 1 brand on Lazada, I knew we had made it," Li said. "It was one of the best moments for me and definitely an invaluable experience."
Building a Product that Sells Itself
Unlike other Chinese brands like Vivo and OPPO who would invest in channel marketing and offline distribution, realme took advantage of the efficiency that e-commerce platforms bring and focused on online sales from the start.
With a strategy of "more value for less money" and a customer-centric approach, realme quickly established itself as one of the top five bestselling smartphone brands in India by the last quarter of 2018. In October, realme achieved record sales of two million units during Diwali, one of India's most important festivals.
This year, realme has emerged as one of the most resilient brands during the coronavirus pandemic. In the first quarter of 2020, company sales grew 157% on year, making it one of only two brands to record growth globally during the period.
"A decade ago, when we mentioned 'Made in China' overseas, the general assumption was that the product would be low-end and cheaper that it was a copycat of some sort," Li said. "Therefore, establishing our position as a mid-to-high-end brand and building our corporate reputation among customers was a real challenge."
"We've always emphasized on building the best product there is," he added. "We want to provide young people with products that combine sleek designs with superior performance."
"Satisfaction from the customer and subsequent word-of-mouth beats any marketing strategy," he added.
Till this day, his core product team spends at least an hour trawling through comments from buyers online, incorporating their suggestions into the next updates or releases.
"Placing great care about customer feedback and forming a quick response to the feedback is vital to me," Li said. "This is the only way to create a product that customers would love and appreciate in the shortest time."
Think Bold, Lead Young
With "Proud to be Young" as its previous slogan and "Dare to Leap" as its current one, realme has won the hearts of millions of youth in Southeast Asia. At the same time, Li's team of young employees, mostly under the age of 30, are rapidly becoming a unique force behind the company's ambitious global expansion.
"Sky is a leader that will take us to success," said Josef, one of the founding members of realme. "There were times when our goals seemed unreachable, but we were always provided with the best resources to deliver the best outcome. We're always able to focus all of our efforts into meeting our goals. The sense of achievement that follows is what pushes us forward every day."
Li also eradicated the Chinese term for boss ("zong") in the office, a practice that he adopted from OPPO, in an attempt to engineer a hierarchy-free workplace that would encourage partnership and innovation.
"Young people are hungry, curious, and passionate," Li said. "I have the utmost trust in my team and let them make all the final decisions. Right now, I'm more of a visionary leader that sets the direction of the company."
"I'm not one of those managers who's always the first to arrive at the office and the last to leave. No employee likes a boss like that!" said Li, who is also an avid reader who would spend the first hour in his office with his books. His favorite titles include "Act Like a Leader, Think Like a Leader", "Amoeba Management", "Steve Jobs", "In Search of Excellence" and "The Power of Simplicity".
I've never been a CEO before, but there's one thing I do know—the only way to overcome adversity is to not be afraid of it and direct all your energy to face it."
Together with his team, Li is the true embodiment of the "Dare to Leap" spirit, and that goes for realme's customers as well.
School campuses and nightclubs were just some of the unconventional venues where realme had held their past launch events, attracting keen, young fans who would help the company set sales records over and over again.
The company had also hosted wallpaper and cover design competitions, with enthusiastic fans contributing more than 6,500 entries in 20 days. The winners of the contest, Srisiti and Sriya, both in their early 20s, were invited to company headquarters for a chance for collaboration with the design team.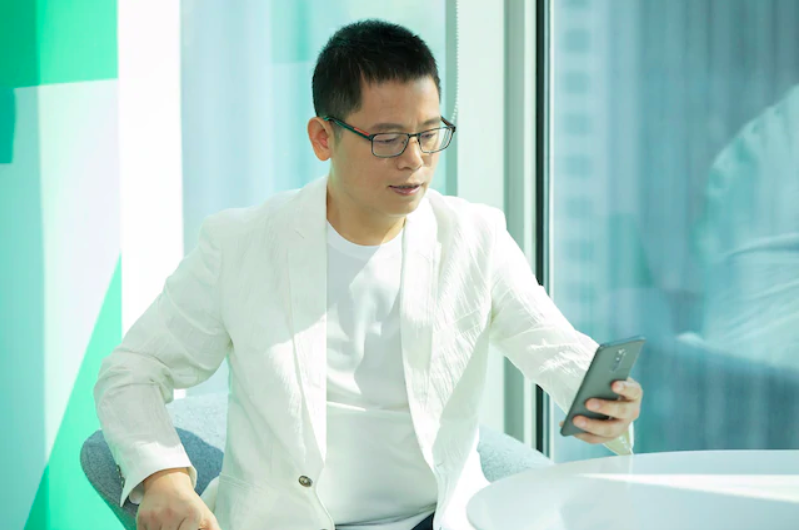 Envisioning realme's Future
"I've always envisioned realme as a global brand," Li said. "We want to become the world's most popular tech lifestyle brand among young people. We have a long way to go."
realme is aggressively venturing into other avenues. It's rapidly building an ecosystem for its young users and is on track to introduce more than 50 AIoT (Artificial Intelligence of Things) products from various categories by then end of 2020 and another 100 products next year. Right now, its trendy and well-designed TV sets, wireless earphones and electric toothbrushes have become best-sellers in several markets.
"I did realize my dream through creating realme. The dream isn't about entrepreneurship – that's not a difficult thing to do – but to live every single day with passion and a willingness to meet new challenges. There aren't too many opportunities in life like that," he said.
Looking back, Li attributed realme's success to three factors: brand positioning, the product itself and an efficient sales model. His biggest mission now is to further develop realme into a healthy and even faster-growing corporation while staying true to its original mission and aspirations.
For realme, the sky's the limit.
Sign up today for 5 free articles monthly!