Top 10 Chinese Mobile Games Overseas in 2020
As the Covid-19 pandemic roars across the world, social distancing is driving up the development and expansion of mobile games. According to a report released by IDC, players have grown at an annual rate of 15% in the first half of 2020, while Newzoo estimates there will be 2.5 billion mobile game players worldwide by the end of 2020.
According to data released by the Game Publishers Association Publications Committee (GPC), the overseas revenue of China's self-developed games has reached about $7.6 billion, an increase of 36.32% year-on-year, representing huge potential in the foreign market.
As this unique year draws to an end, the Pandaily team is thrilled to present you with a hand-picked list of the top 10 overseas Chinese mobile games.
SEE ALSO: 2019 Top 10 Chinese Mobile Games Overseas
We cross-referenced several data pools, such as Google Trends, the overseas social media fanbases of mobile game companies, our database Pandata, and took four dimensions into consideration, including brand influence in the overseas market, market penetration rate, numbers of foreign users, and business highlights in 2020.
Now without further ado, let's dive into the top 10 list!
(Please note that the 10 mobile games are listed in alphabetical order.)
AFK Arena
As a star product from Lilith Games themed after the western fantasy genre, AFK Arena (剑与远征) is a casual action card/board game packing high aesthetic value, committing players to fighting against evil and protecting the realm of "Esperia." In the role-playing game (RPG), players can build up personalized teams and level up with the AFK Awards auto farming system.
One of the main reasons why AFK Arena has been well-received in the western market lies in its visuals. Produced by the same visual team as Dot Arena, another game from Lilith, AFK Arena presents players with a fusion of Japanese cinematics, glass paintings and classic European murals.
Since the game went global in April last year for both iOS and Android, it has been downloaded more than 10 million times on Google Play alone. By November 2020, it had 200,000 downloads worldwide and generated a revenue of $6 million, according to data from Sensor Tower.
Genshin Impact
The second game on our list is Genshin Impact (原神) – also a RPG -, a free-to-play action game developed and published by the Shanghai-based miHoYo and supported by game engine developer Unity. The product features a fantasy open-world environment as well as an action-based battle system. Through character-switching and gacha game monetization, players can change roles, weapons, and resources.
Genshin Impact was released in September 2020 for Microsoft Windows, PlayStation 4, Android, and iOS. Greeted with a positive reception by players and critics alike, with only few complaints about its ending, the rising star grossed over $393 million in the two months after its launch, a remarkable success in the history of game releases.
This has been a notable sensation in the overseas market. On its launch day, Genshin Impact topped the download charts in many countries and regions, successfully entering the top 5 of the best-selling lists in the U.S., Germany, France, Japan, South Korea, and more. As of mid-October, about a month after its release, the game still ranks among the top 10 in the best-selling lists in the above-mentioned countries, and the top 10 download lists in more than 30 countries. It has also entered the list of Google Play's Best Games of 2020.
King of Avalon
King of Avalon (KoA, 阿瓦隆之王) is a massively multiplayer online (MMO) strategy game developed by FunPlus. The game is set in a fantasy world populated by dragons and focuses on military strategy and conquering new lands. Unlike Genshin Impact – which was only launched recently – KoA first appeared in July 2016 on iOS and Android, and has since become one of Google Play's bestsellers.
Set in medieval England, KoA brings players back to the legends of King Arthur and the Knights of the Round Table. As an MMO, players can build cities, raise armies, train magic dragons and wage wars, with a view on deploying intelligent strategies to overwhelm their opponents.
According to Oren Bennett, head of operations for FunPlus in the U.S., the game generated more than $721 million in revenue between 2016 and April 2019. FunPlus, the parent company of KoA, has been the star of simulated life games (SLG) in recent years, retaining its position as top 1 on the overseas revenue list of App Annie from December 2018 to September 2019.
Knives Out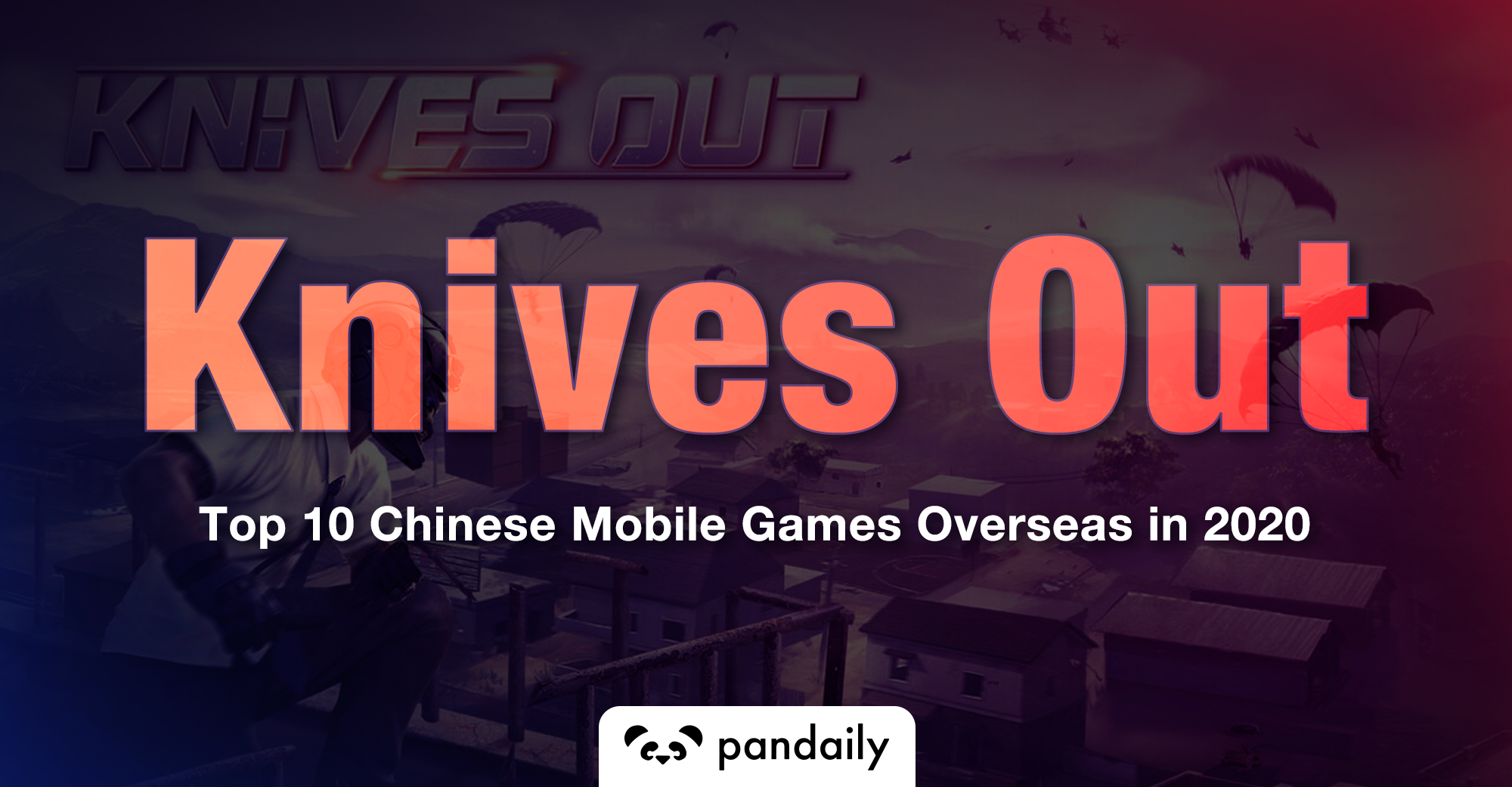 Claiming to be inspired by the high profile Players Unknown Battlegrounds (PUBG), Knives Out (荒野行动) is a first-person action game also known as Wilderness Action, was presented by NetEase and released in 2017. In the game, 100 players must fight their way out of a battlefield – located on a remote island – from the very second they land there. It can also be played in five-player groups.
Although namely a clone of PUBG, Knives Out made $465 million worldwide in 2018 – roughly a year after it was launched – thus generating more profit than PUBG itself. The U.S. accounted for only about 1% of its market shares, while the game turned out to be a hit in Japan, where about 80% of its global shares come from, generating approximately $370 million, 11 times more than what Japanese players spent on PUBG mobile in 2018. Meanwhile, Knives Out made $81 million in 2018 in China, its second best-selling market.
SEE ALSO: Chinese Top Game Publishers and Their Hottest Mobile Games
Lords Mobile
An SLG operated by IGG, Lords Mobile (王国纪元) was launched in 2016. With refined details and a delicate design, the game allows players to build their own kingdoms, set troop formations, forge alliances and experience role-playing through a team of five heroes. It differs from other SLG in that it adds adventure and hero cultivation elements, thus somewhat resembling board games.
Lords Mobile has been a success in foreign markets, with about 320 million registered users across the globe and over 13 million monthly active users (MAU) as of the end of June 2020. Per App Annie, the game has dominated worldwide rankings as the top-grossing mobile war strategy game for two consecutive years since its launch in 2016, thriving amid intense competition in both the budding strategy game market and the overall global mobile games market.
Mafia City
Developed by Yotta Games, Mafia City stands out among other SLGs for its gangster theme, attracting overseas players who often like such unique visuals and background stories. With the visuals all in 2D, Mafia City would not generally be considered a demanding product, even in spite of its refined designs and polished graphics, functioning smoothly on low-end devices.
Launched in 2016, Mafia City did not immediately hit the radar of a majority of players but it swept to popularity in 2018 in Japan, and then slowly grabbed the attention of the European and American markets. In 2018, its annual revenue reached $100 million, as downloads surged to 24 million. Japanese players contributed 43% of revenue, American players accounted for 24%, and Korean ones 8%.
One highlight worth mentioning is the outburst of funny memes and videos from the gameplay footage, some of which have been viewed over a hundred thousand times on Google and Youtube.
Minimal Dungeon RPG
Minimal Dungeon RPG, developed by CapPlay, is listed on Google Play's Best Games of 2020 as the best innovative game. Supported by game engine company Cocos, Minimal Dungeon RPG was created by a team of just four people, who took a month to develop and present the game to the public.
The game strikes a perfect balance between minimalistic design and role-playing mechanics, with rich storylines and challenging, yet rewarding layouts. Featuring epic dungeons filled with loot and monsters, the game is designed for players who look forward to slaying monstrous creatures and level up as they go on treasure hunts.
PUBG Mobile
Player Unknown's Battleground (绝地求生), whose mobile version is known as "PUBG Mobile" or "吃鸡" (chī jī) in Chinese, is one of the most popular Battle Royale games in China. With demand and market share ever-increasing overseas, the Tencent-backed mobile game is looking to further expand its global business. Similar to the typical Battle Royale games, 100 players land on a battleground to fight against one another, struggling for survival.
SEE ALSO: 'PUBG Mobile' Overseas Revenue Reaches New High as COVID-19 Lockdown Continues
Over the past year, PUBG Mobile generated a revenue of $70 million in its overseas markets, an increase of 30% monthly, ranking first among all Chinese game companies, according to data from Sensor Tower. In 2019, the game was the most lucrative Chinese mobile game in the global market, grossing $776 million.
Rise of Kingdoms
Another game developed by Lilith Games on our list, Rise of Kingdoms is a mobile MMO real-time strategy game inspired by historical storytelling. Featuring real-time battles, the game is set up on a seamless world map inhabited by players and NPC characters.
As opposed to using traditional separate battle screens, the game has an infinite zoom feature that allows players to transit freely between the world view and the cities and outposts. Another highlight which has attracted overseas players lies in the fact that they can call upon dozens of historical figures famous in western history, including Julius Caesar, Sun Tzu, and Joan of Arc.
State of Survival
Last but not least on our top 10 list is State of Survival, a survival-themed strategy game. The player, as one of the remaining survivors after doomsday, is given the mission to reclaim an infected, haunted world and locate heroes to build an army of fellow survivors.
Developed by KingsGroup in 2019, the zombie survival game swiftly became one of the most popular mobile games of that year, obtaining more than 60 million downloads globally and being featured 75 times by App Store as the Game of the Day.
Sign up today for 5 free articles monthly!