Pony.ai and FAW Nanjing Reach Strategic Cooperation to Develop L4 Autonomous Driving Technology
Autonomous driving company Pony.ai announced on Friday that it has reached a strategic cooperation with FAW Nanjing Technology, a wholly-owned subsidiary of its investor China FAW. 
This cooperation aims to deeply integrate the resources and advantages of both parties in the fields of L4 autonomous driving technology R&D, vehicle R&D and manufacturing to accelerate the large-scale application of autonomous robotaxi services.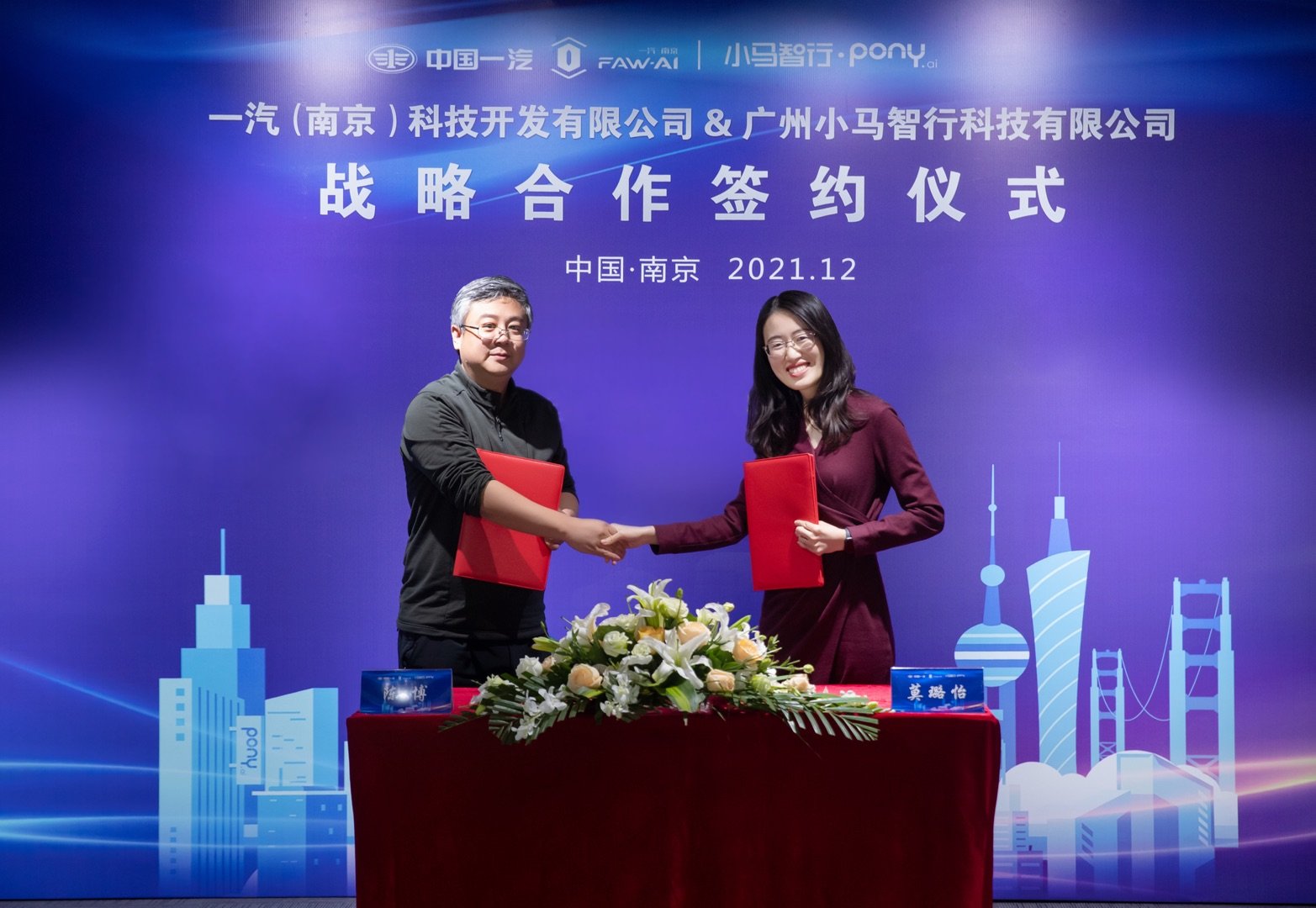 The two parties will jointly make a high-end mass production plan for the hardware systems of automated driving sensors, jointly develop vehicle models suitable for robotaxi services and carry out front-end mass production, so as to realize the large-scale application of low-cost autonomous driving platforms.
They also plan to jointly establish an autonomous driving demonstration operation fleet and carry out commercial operation cooperation in Guangzhou, Beijing, Shanghai, Changchun and Nanjing to realize the large-scale operation of Robotaxi services.
China FAW Group Corporation is an important partner of Pony.ai in the process of promoting the commercialization of autonomous driving. In addition, it made a strategic investment in Pony.ai in October 2020.
FAW Nanjing Technology, a wholly-owned subsidiary of China FAW Group Corporation, takes "artificial intelligence technology reshapes human travel experience" as its mission, comprehensively lays out the whole industrial chain of "automobile + AI," and strives to build a "China's first and world-class" artificial intelligence R&D center.
Pony.ai has been steadily expanding its operations scale and the scope of its automated driving services. At present, its services have covered Beijing, Guangzhou and Shanghai, as well as Fremont and Irvine in the U.S., providing more than 500,000 services worldwide, with a comprehensive customer evaluation of 4.91 points (out of a full score of 5 points).
SEE ALSO: Pony.ai and ONTIME Reach Cooperation to Jointly Promote Commercialization of Robotaxis
According to IThome House, on November 19, the official website of the California Department of Motor Vehicles showed that Pony.ai only appeared in the list of automated driving unmanned test permit for about six months before disappearing from the list completely.
Pony.ai replied to this matter, "Our company always adheres to the principle of safety first. Previously, during the daily tests of its unmanned test vehicles in California, there was a slight collision happening with no one injured involving no other vehicles. But after the accident, the company immediately conducted a review and investigation of the incident and stopped the unmanned test of automated driving in California by itself."
Sign up today for 5 free articles monthly!